First Lady Almeta L. Radford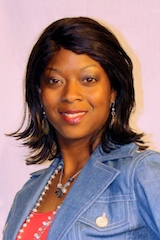 First Lady Almeta Radford is a native of Arkadelphia, Arkansas. She is a graduate of Southern Arkansas University with a Bachelor of Arts Degree in Public Relations/Mass Communication with Minor in Broadcast Journalism. She has been employed with the City of Manassas Public Schools for over 15 years. Starting as an Administrative Assistant in 1998, she was able to create a Public Relations Specialist position for the Division in 2002. She was promoted to Public Communications Coordinator as of July 1, 2013. First Lady Radford is also a 2011 graduate of Leadership Prince William, a nine-month innovative program designed to assist in preparing existing and emerging Prince William County VA community leaders for leadership positions in business, local government and community affairs.
At the age of 17, she met the man she would later marry, Jesse L. Radford III (the Pastor of Upper Room Christian Cathedral, Manassas, VA). Upon graduating from college and getting married in May 1996, the Radfords left all they knew in Arkansas and moved to Manassas, VA.
God placed them at Unity Christian Outreach, where they both served as youth ministers. In April of 2000, First Lady Radford joined her husband in establishing the Upper Room Christian Cathedral. In addition to aiding her husband in the ministry, she acts as the Church Administrator and established "Just Women" Ministries. She also assists the Minister of Music with the Adult Praise Team, by serving as Worship Leader. She also walks in a strong intercessory prayer ministry, built upon declarations and confessions from the Word of God. "I have a heart for worship and prayer," says Lady Al. "The combination of the two has truly helped me to develop a more intimate relationship with God for myself, and given me an even deeper desire to decree the Will of God (through prayer) over the lives of His people."
Lady Radford and Pastor share their heart with their son, Jordan, age 13, and their daughter, Sydney, age 10.