Worship Through
Giving at The Room

You may give your tithe online or choose another seed designation using our secure "Donate" button. Other giving options are listed below.
Thank you for giving at The Room!

Tithes & Offering

We are instructed through Malachi 3:10 to "Bring all the tithes into the storehouse, that there may be food in My house. And try Me now in this," says the Lord of hosts, "If I will not open for you the windows of heaven and pour out for you such blessing that there will not be room enough to receive it." Giving is an act of worship to God. The Room receives an offering each week during our Sunday morning worship experience. While cash and checks are the most common way donations, tithes, and offerings are received by the church, we also realize the need to support debit cards and credit cards for many URCC Disciples. Providing additional ways to release the tithe is very helpful if you ever miss a worship experience for any reason, or if you are looking for a different or recurring way to give your seed. The Room is pleased to offer online giving through PayPal. Many online shoppers/consumers already have a PayPal account and are familiar with its use.
MOBILE GIVING OPTION
TEXT TO GIVE
You can now give through texting! Text the word "Give" to 703-884-8722. You will get a link to click on to donate and set up an account so you're ready to give easily right from your mobile device.

PAYPAL
You can release your tithe or sow your seed using the PayPal app on almost any mobile device. If you have the PayPal app:
Login and select "Send" at the bottom of the screen.
When prompted, simply enter church@urcc.org in the "To:" box.
Enter the "Amount" of your donation
In the "Message" box, please enter your donation designation. For example, if you entered an amount of $100, in the "Message" box, state that the amount is for tithes, offering or a special designation such as children's ministry, etc.
In the section titled "What's this payment for?", please select "Goods or Services". (Note: URCC incurs PayPal fees for all transactions. This does not affect your tithe amount. All tithes and offerings are collected for the advancement of the Kingdom – spiritually and administratively.)
When you have completed this screen, click "Next". You will be asked to identify your "Payment Method". Once selected, please select "Send" and your transaction will be complete.
RECURRING DONATION
Many Disciples desire to have their tithe processed automatically on a recurring basis. If you are paid an exact amount each month and have already predetermined your monthly, weekly, or bi-weekly tithe, this may be an option for you. It's a good way to ensure that your tithe is automatically released as a "first fruit" off the top of your increase.
You may choose this option by clicking on "Donate" on the front page of our website. After clicking "Donate" you should see the giving screen.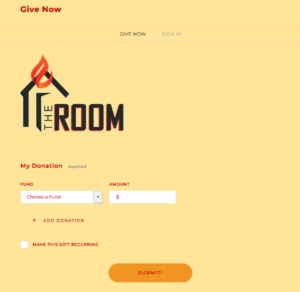 After entering your donation amount, you may select the "Make This Gift Recurring" option. You will then be prompted to choose a text (SMS) number or email address to sign in to your account. (You can also register as a new user and create an account that way).
Once you have logged in, you will be asked to "review your recurring donation". Please note that there is an option on the screen for you enter a designation for your funds.
Be sure to designate how you want your donation applied so it can be notated correctly. When you are finished reviewing your information, click the "Submit" button and your transaction will be complete.
USING YOUR BANK'S ONLINE BILL PAY FUNCTION
If you don't have a PayPal account or don't feel comfortable giving online, you may also set up recurring donations directly through your bank's "Online Bill Pay". While we don't view our tithes as a "bill" or "payment", this is a common option banking institutions provide for clients who want to have money directly debited from their account. The process varies slightly from bank to bank, but most banks can have "set up" steps like this:
Log onto your bank's website and look for "Bill Pay" or a similar title.

Select the options according to your desires and have the check made out to "Upper Room Christian Cathedral or URCC." The check can be sent to the church at:
Upper Room Christian Cathedral
P.O. Box 3345
Manassas, VA 20108
Your bank will then send the donation out on your behalf.
THANK YOU FOR YOUR FAITHFUL GIVING
Ultimately, we believe giving should be an act of worship and thankfulness, – an act of obedience and faith. We understand the reality that when you give to The Room, you are trusting us to steward those gifts well, and we commit to you that we are doing just that. As you give, we believe God will bless your obedience in putting Him first.
*Upper Room Christian Cathedral ("The Room") is 501 (c) 3 organization and all contributions are tax-deductible.
The church uses PayPal as an online payment processor, which provides us with the ability to accept online transactions in several different ways. None of your financial information such as bank account numbers or debit card numbers will be available to URCC. All data is stored at PayPal's processing centers and secured there.
If you have questions about tithing/giving, please email us at church@urcc.org.